November 7th, 2018
About two years ago someone dropped off two Muscovy ducks at the lake near my house. One was black and one white. Within a couple weeks, the black duck disappeared. The white one is still here. I call him/her Duck.

Since I walk my dog most everyday morning and afternoon, I've gotten in the habit of looking to see where Duck is and what she is doing. I worry about her being lonely and miss her when I don't see her. Continue to my website listed at http://www.nancyworrelldesigns.com/
September 25th, 2018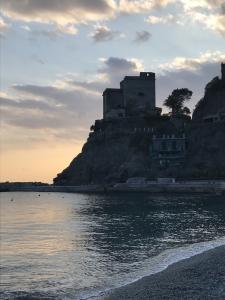 Monterosso Sunset, Monterosso, Liguria, Italy - Art Print

"Oh, there is no sunset this time of the year".That was response I received from Andre, our host. It was late February when we arrived in Monterosso al Mare. It is the most western of five villages that make up Cinque Terre which is located in Liguria, Italy on the Tyrrhenian Sea.

Monterosso was quiet with only a few tourists. We practically had the place to ourselves. And actually we did have the tiny hotel (all 9 rooms) to ourselves.

We spent our time wandering the empty streets and following the path up and around the Monterosso seaside castle, pictured here. Then, settling on a rocky beach we watched the sun go down. What a lovely sunset – a beautiful pastel sky framed the silhouette of the castle perched high on the cliff.

Another beautiful day in Italy complete with a lovely winter sunset in Monterosso al Mare.